Karma, after-life, spirits, soul, returns, beliefs, principles, values.
All that shit, do they really exist? If they do, I wonder who up there tries to organise each and everyone of them and who actually programs all these into the minds of us humans. Then, who actually sends messages to some people to create fairytale inspired quotes like "The spaces between your fingers were created so that another's could fill them in."
If only, if only those things really does exist, I wish for  a call, a message, a note from that source to tell me that it is okay, everything is okay. That I have no power of what is going to happen, that it is not my fault, not the other person's fault, that we are just puppets for the mass audience from the above. Then there is no reason for me to be upset or angry at anything because I know I'm not playing a role in the direction of my life as well as the way my heart wants to feel.
There are many, many nights that I spend before I sleep wondering if there will be someone who would flip pages of a book for me, reading line by line, while trying to catch a glimpse to check if I was listening or if I have fallen asleep. If there would be someone in the far future, that would think of me the moment they open their eyes and check if I still have my blanket on. If all of the above did exist, did that Someone arrange for me to be thought of and loved that way? Will I ever be so important to a person that I'd be the first one they want to turn to, happy or sad?
Many, many reasons come lying below that blanket of peace, patience, and smiles. It's doesn't just help protect a toe from the cold, but 9 other of its kind, and many other parts of the body that needs warmth. Every time I stick my toes out the blanket, I feel a little insecure. I feel as if I am about to be pulled away from warmth and comfort from beneath the bed, where lays a sea of other prying eyes and judgements waiting for its revenge as I have been on top of it for too long – dreaming dreams that don't and never will exist. They want me to know that the world is dark and gloomy, as it always is down there but I have always been taking my days up there on the bed for granted.
Yesterday I read on my timeline, this quote that left me wondering if it really is true. It said "A guy can make you think he loves you when he really doesn't, but a girl can make you think she has no feelings for you although she really loves you." It gave me alot of thoughts, and further strengthened my belief that maybe, just maybe – I would never ever come upon a day when I can really identify the sincerity of someone that really does.
This probably happens to most probably 98% of the girls of the world, who are capable of engaging in a relationship of the modern era. I am just another 0.00001% of that lot. Yesterday, it felt like an arrow sparred through my body, and fluids that used to protect that beating heart all gushed out from its place, leaving the heartpump more evident, loud, clear – but somewhat empty. you don't know what you've got until it's gone. You knew exactly what you had, you just never thought you'd lose it……….forever. It is somewhat a feeling of being dumped, never treasured, and was just an experiment of time and feelings.
There are people who make fun of this precious thing that I own. I know its not their intentions to hurt me, but what keeps me wondering is whether if it is because of the modern idea of a relationship that incited it? It really stings me everytime somebody makes fun of something so precious to me, I would literally feel a stab that pushes the element of betrayal called tears trying to push its way out, trying to defend me to tell these people that it is not a funny issue to talk so lightly about. Every single time I fight back, telling my guardians its okay, I have to deal with this. But, if everything of the unseen does exist – is this right and fair?
I lost trust and confidence in my own ability that I am someone worthy of another's full attention since many, many years back not just because of one incident, but many many others that tied in together at the same phase in life. It was a hard lap for me to run, all happening in between two years – and when a teenager was most fragile. Drastically pushed confidence level into a point where it is hardly seen, but I have been living with life, making up to myself as to not feel that low in life – deceiving the world and sometimes myself that confidence has always been in my books. Just like how someone had taken of the cellophane tape that had my confidence taped with it, realized it was wrong, and tried sticking it back again in hopes for it to look the way it did. However the fact is that the cellotape is no longer as adhesive as it was, and it had even taken shreds of the paper along with it when it was taken off. It will no longer be the same old fine piece of paper, living with self doubts as to if the cellotape would be blown away by the wind again as it is now barely holding on.
I am not running away.
I am still here, waiting to be discovered – but someone needs to know where to find me because I am trembling behind that big pillar in fear of being unfound forever. Everybody is walking pass, as there are many more beautiful things to see up ahead. A few come by and say hi because they want to play, but none of them had realised that I didn't want to sit on swings and play with teddy bears. I need someone to bring me home, dry me up and tuck me to bed because I am dripping wet from the rain that I had ran under after coming out from the previous pillar that I had stepped out from.
I ran out of that one myself, because I was trying to go after somebody who had been sitting opposite the road, starring at me for days, weeks and months without a budge. That person never told me to come out of the shades behind that pillar, but instead spent all his time with me, making sure that I know that I'm not alone. We were like the lines of a parallel line. Always side by side, watching over each other's shoulders but will never ever meet at the end. One day he decided to get up from his seat and walk away. Out of surprised I ran out of the pillar but he was already nowhere in sight. I knew that I was in trouble this time but there was no way back to my previous pillar. I had unconsciously left it and the road I was on was just a one-way street, no turning back.
I've been in and out several, although not many, pillars now. All varied in sizes, colours and shapes but every single time I walked out, whether in purpose or by accidental means, I always got myself wet – by drizzle or rain.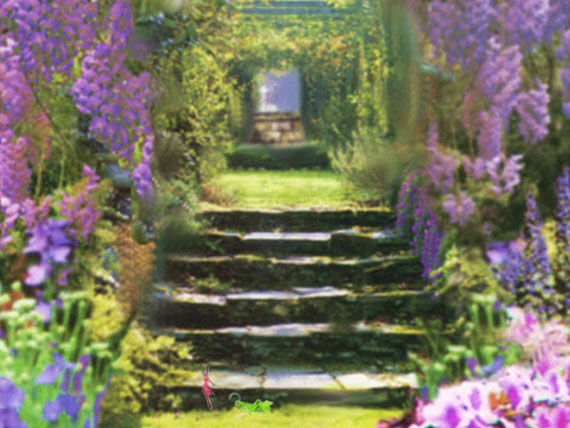 All I want is just a sunny day, with green grass to walk on, beside somebody who walks into my pillar and hands me a set of clothes to change into. That special someone that wouldn't sit opposite the street staring at me, but stands right infront of me – making sure that nobody else tries to lure me out of that pillar, spending his precious time observing and understanding me despite all the amazing things ahead. However, that vision is blur and its scene is only floating at this corner of my head.
There may never be this somebody because everybody just really wants to get to the rides of the theme park and not pay any attention to that pillar that blends in with the wall, what more that small existance that is hiding behind it.
Nobody sees it.
Nobody.
So tell me, is it in my hands, the visitor's hands, or Their hands?